Beeline phone brand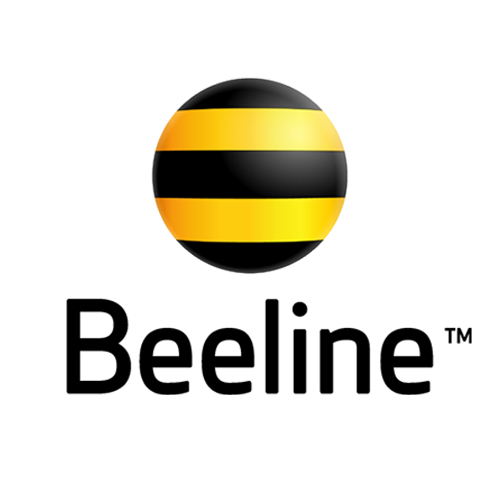 Beeline, earlier Bee Line GSM is a telecommunications brand by company PJSC VimpelCom, founded in Russia.
PJSC VimpelCom is Russia's third-largest wireless and second-largest telecommunications operator. Its headquarters is located in Moscow. Since 2009, PJSC VimpelCom has been a subsidiary of VimpelCom Ltd., which has become Veon in 2017. It is based in Amsterdam. VimpelCom's main competitors in Russia are Mobile TeleSystems, MegaFon and Tele2.
The commercial service was launched under the Beeline brand, a brand developed by Fabela in late 1993 to differentiate the company as a youthful and fun company, rather than a technical company. The name comes from the English term "beeline", meaning the most direct way between two points.
VimpelCom relaunched Beeline with the current characteristic black-and-yellow striped circle in 2005 with a campaign to associate the brand with the principles of brightness, friendliness, effectiveness, simplicity, and positive emotions; with a new slogan "Живи на яркой стороне" (Live on the bright side). The rebranding campaign was hugely successful and the principles associated with the brand "captured hearts and minds", in the words of the company.
OJSC VimpelCom was founded in 1992 and initially operated AMPS/D-AMPS network in Moscow area. In 1996 it became the first Russian company listed on the New York Stock Exchange (NYSE: VIP).
In 1997 the company began GSM network roll-out and in 2001 it started GSM networks throughout Russia's regions, having gradually increased its regional presence to the majority of Russia's territory.
In November 2005 OJSC VimpelCom stepped further with foreign acquisitions by acquiring 100% of Ukrainian RadioSystems, a marginal Ukrainian GSM operator operating under the Wellcom and Mobi brands. The deal has been surrounded by a controversy involving two major shareholders of VimpelCom: the Russian Alfa Group and Telenor, the incumbent Norwegian telecommunications company.

Some frequently asked questions about Beeline: