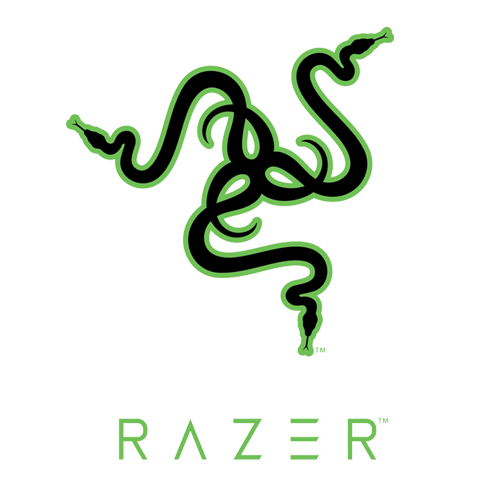 Razer
Razer Inc is a Singaporean-American multinational technology company that designs, develops, and sells consumer electronics, financial services, and gaming hardware. Founded by Min-Liang Tan and Robert Krakoff, it is dual headquartered in one-north, Singapore and Irvine, California, US.
Razer began as a San Diego, California based subsidiary of kärna LLC in 1998, created to develop and market a high-end computer gaming mouse, the Boomslang, targeted to computer gamers. Kärna ceased operations in 2000 due to financial issues. The current iteration of Razer was founded in 2005 by Min-Liang Tan, a Singaporean NUS graduate, and Robert Krakoff after they procured the rights to the Razer brand following a large investment from Hong Kong tycoon Li Ka-shing and Singaporean holding company Temasek Holdings.
Razer bought the software assets of the Android-based microconsole Ouya from its parent company Ouya Inc. on 27 July 2015, while the hardware was discontinued. Ouya's technical team joined Razer's team in developing their own microconsole, which was called the Forge TV. This was also discontinued, less than a year later.
In October 2016, Razer purchased THX from Creative Technology according to THX CEO Ty Ahmad-Taylor.
In January 2017, Razer bought manufacturer Nextbit, the startup behind the Robin smartphone. Shortly after in November that, Razer unveiled the Razer Phone, its first smartphone whose design is based on that of the Robin.
In July 2017, Razer filed to go public through an IPO in Hong Kong. In October, it was confirmed that Razer plans to offer 1,063,600,000 shares at a range of $0.38-$0.51. On 14 November, Razer was officially listed on Hong Kong stock exchange under the stock code 1337, a reference to leet speak commonly used by gamers. Razer's IPO closed 18% up on the first day of trading and was the 2nd most successful IPO of 2017 in Hong Kong.
In April 2018, Razer announced that it was planning to fully acquire the e-payments platform MOL for about $61 million. In July, Razer made its debut in Malaysia by launching an e-wallet service called Razer Pay. They also announced the Razer Phone 2 in October.
In February 2019, Razer announced it was closing its Razer Game Store as part of the company's realignment plans.
On 21 May 2019, Razer released a statement that announced that Ouya online accounts and services would be discontinued on 25 June 2019. According to Razer, most apps will become unusable on the platform, many relying on the user accounts to work. Razer suggests that users may be able to transfer purchases to other storefront platforms like Google Play, if developers and publishers agree to such.
In October 2020, Razer announced it was launching a new virtual prepaid debit card starting with Singapore in January 2021.
In February 2021, CEO Tan Min-Liang announced that Razer's new Southeast Asian headquarters located in Singapore will open in the second quarter of 2021. Razer plans to hire up to 1,000 positions for the new headquarters.
Later in 2021, Razer announced the shutting down of Razer Pay (Beta) e-wallet in Malaysia and Singapore.

Razer is a American phone brand. The company was founded in 1998.
2 phones
The first device was released in 2017
The latest device was released in 2018