microSD (or TransFlash) is a type of removable flash memory card designed specifically for mobile phones.
Like any flash memory card, it can be used to store various types of files, including photos, videos, music, or software.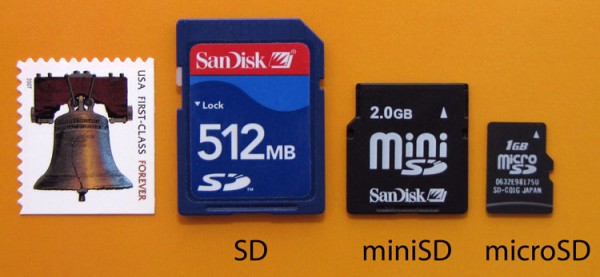 (TransFlash)
microSD is one of the smallest memory card formats available; a microSD card is about the size of a fingernail. It was designed to be smaller than competing formats, to allow phones using the format to be smaller overall.
There are adapter cards that allow a microSD card to be used in an SD card slot. This is a convenient way to use a microSD card with a card reader on a PC, to transfer files between a PC and a phone.
microSD cards with a memory capacity larger than 2 GB are microSDHC, which uses the exact same technology as SDHC, just in the smaller microSD size. The "HC" stands for "high capacity". These cards can only be used in microSDHC-compatible devices. Some older phones do not support microSDHC, and therefore do not support cards larger than 2 GB.
The microSD card format was first brought to market in 2004 as "TransFlash". In 2005, the format morphed into "microSD". It was mostly just a name change, as all microSD cards should be compatible with TransFlash slots and vice-versa. The format has also gone by the names "T-Flash" and "TriFlash-R".