Secure Digital, officially abbreviated as SD, is a proprietary non-volatile memory card format developed by the SD Association (SDA) for use in portable devices.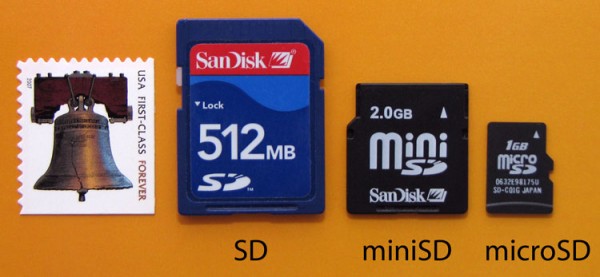 The dimensions of an SD card are 24 x 32 x 2.1 mm, which makes it smaller than CompactFlash but larger than miniSD, microSD (TransFlash) and RS-MMC.
SD cards are about the same size as MMC but a bit thicker. They provide a bit more speed than MMC at the expense of higher power consumtion. SD cards also provide a hardware lock that can protect the stored data from being erased.
The standard was introduced in August 1999 by joint efforts between SanDisk, Panasonic (Matsushita Electric) and Toshiba as an improvement over MultiMediaCards (MMCs), and has become the industry standard. The three companies formed SD-3C, LLC, a company that licenses and enforces intellectual property rights associated with SD memory cards and SD host and ancillary products.