A Subscriber Identity Module or Subscriber Identification Module (SIM), widely known as a SIM card, is an integrated circuit chip that is designed to identify your mobile carrier.
SIM cards contain network-specific information that is used to authenticate and identify subscribers on the mobile network and since their initial release in 1991 have been made smaller with every new format.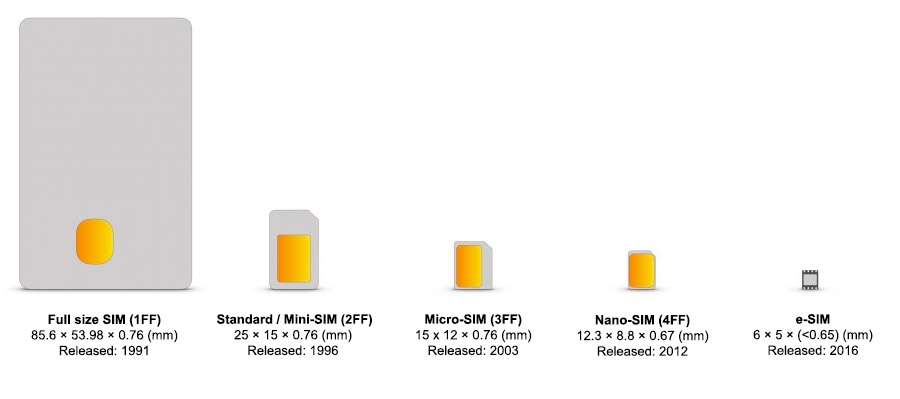 From left to right in the above image we have; Full-size SIM (1FF), mini-SIM (2FF), micro-SIM (3FF), nano-SIM (4FF) and e-SIM.
Regardless of which size SIM card you are using in your device each SIM card can store up to 250 name/number pairs and can also hold up to 50 SMS text messages.
As mentioned above most modern day smartphones use either a Micro or Nano-SIM while most tough phones use a Mini-SIM. However it appars that this generation of tough phones are starting to follow in the footsteps of their less rugged brothers with handsets like the new CAT S30 & CAT S40 now using Nano-SIMs.
Will we ever reach a time when SIM cards are a thing of the past? Possibly, but for now the SIM card in your phone is needed to connect your device to a mobile network.
The SIM card was part of a European telecommunications standard that was designed to separate mobile phones from the networks they connected to. This was done by moving all the necessary security and identification data onto a chip, embedding it into a piece of removable plastic the size of a credit card.
Each SIM card has a unique IMSI (International Mobile Subscriber Identity) number allocated to it, and it is this IMSI number that the GSM networks use to connect your mobile to another during a call, so when someone calls your mobile number they are connected to you rather than someone else - clever!